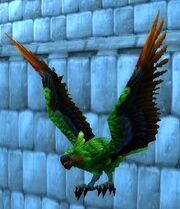 The Parrot Cage (Senegal) teaches you how to summon Senegal, a parrot companion.
Source
This item is sold by the following vendors for 40

:
Pet Journal
Favored pet of the goblins of Booty Bay, this colorful bird is renowned for its ability to count coins, tally budgets, and lie about contracts.
Battles
Notes
Narkk sometimes sells the rarer

 [Parrot Cage (Cockatiel)].
External links
Battle pet types
Flying battle pets

Archetype of Motion

Archetype of Satisfaction

Battie

Bloodsucker Vespoid

Dusty Sporeflutterer

Enraged Poultrid

Fluttering Glimmerfly

Foulwing Buzzer

Fuzzy Shimmermoth

Gilded Wader

Helpful Glimmerfly

Larion Pouncer

Multichicken

Necroray Spawnling

Pearlwing Heron

Scarlet Proto Avian

Senegal

Sinfall Screecher

Stony

Vibrant Glimmerfly

Wader Chick

Wild Etherwyrm