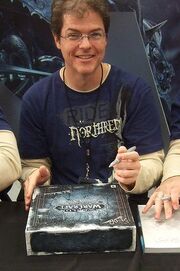 Patrick "Pat" Nagle[1] is a Senior Game Designer at Blizzard Entertainment. He started working at Blizzard in 1997[1] and has worked on games from the Warcraft, StarCraft and Diablo franchises. He was one of the original two Quest Designers for the original World of Warcraft, the other being Jeffrey Kaplan.[1] Pagle currently works on Hearthstone, specifically designing new Tavern Brawls.[2]
Trivia
Nat Pagle is a reference to him. When Alex Afrasiabi was creating the original profession trainer NPCs, he asked Nagle if he could name the fishing trainer after him, and Nagle told Afrasiabi that he could do whatever he wanted. Nagle reflects that things took off from there and that his namesake is now way more famous than he is.[3]
Nagle created many of the original quests in Elwynn Forest.[4] The very first quest he designed in World of Warcraft was  [2] 

Kobold Camp Cleanup

.[1] In addition, he designed the Stitches questline in Duskwood.[4]
References
External links

LinkedIn
 LinkedIn profile

MobyGames career listing