Pearl of Pandaria
For the pearl desired by Zhahara Darksquall and found by Wanyo, see Pearl of Pandaria (item).
Pearl of Pandaria



2020 cover artwork

Author(s)
Micky Neilson
Artist(s)
Sean Galloway
Pages
128 (2012)
112 (2020)
Publisher(s)
DC Comics (US, 2012)
UK: Titan Books (UK, 2012)
Blizzard Publishing (2020)
Publication date
US: September 19, 2012
October 20, 2020
UK: September 25, 2012
Format(s)
Hardcover
Retail price
US: 24.99 (2012)
$14.95 (2020)
UK: 18.99 (2012)
ISBN 10
1-401-22699-X (US, 2012)
1-78116-550-5 (UK, 2012)
195036626X (2020)
ISBN 13
978-1-401-22699-2 (US, 2012)
978-1-78116-550-8 (UK, 2012)
978-1950366262 (2020)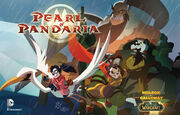 World of Warcraft: Pearl of Pandaria is an original graphic novel set in the Warcraft universe, and ties into the 4th expansion pack, World of Warcraft: Mists of Pandaria. It is set before the Cataclysm and gives a look at Pandaria before the mists protecting the island were cleared.[1]
The plot of the comic revolves around Chen Stormstout's niece, Li Li, as she ventures into the world with another pandaren named Bo, who wishes to take her back home to the Wandering Isle.
Characters
| Major | Supporting | Minor | Mentioned |
| --- | --- | --- | --- |
| | | | |
Locations
Unnamed underwater ruins (possibly Vashj'ir)
Unnamed island
Others
Development
Pearl of Pandaria was originally conceived several years before its release; the graphic novel's author Micky Neilson believes that the book may have been brainstormed around the time of The Burning Crusade. At the time, there were no plans for an expansion featuring Pandaria or the pandaren, so the book was planned to simply be a way to explore Pandaria, Chen Stormstout, and the pandaren culture, as well as to serve as a kind of travel guide to the world of Azeroth.[2][3]
The character of Li Li was created in brainstorming sessions between Neilson, Samwise Didier, and Chris Metzen, who together came up with the idea of an optimistic young pandaren who would serve as the channel that the book's readers see the world through.[2] These brainstorming sessions also saw the creation of the story's villains: Rahjak, Rumblefitz, Blokk, and Zhahara Darksquall. Neilson, Didier, and Metzen knew they wanted to have unique villains for Li Li go to up against and specifically thought that it'd be interesting to include unusual characters like a blademaster and a goblin alchemist, which originated in Warcraft III but are very rarely seen in World of Warcraft. (Zhahara is somewhat an exception since naga and sea witches are fairly commonplace in WoW, but according to Neilson, her character arose from being "more a part of the plot"). Another aspect of the brainstorming process was to pick out areas of the world where the team had the opportunity to add more history and lore, such as revealing the origins of Brewfest.[3]
The story of Pearl was largely written before the events of Cataclysm. As development of the book progressed and the team found out that there would in fact be an expansion including Pandaria, they went back and made some changes to the script. Luckily, the majority of the story takes place in the Eastern Kingdoms and Kalimdor, with Shen-zin Su—who was being developed for the game—only being featured in the first and last parts of the book. According to Neilson, artist Sean Galloway and his team were also really great about making artwork changes, which became necessary at a few points as the game evolved.[3]
Notes and trivia
Chen uses

[

Storm, Earth, and Fire

]

during his battle with Rahjak.
The first hint of the comic appeared in 2009 as an inaccurate listing for an upcoming hardcover Wildstorm OGN called World of Warcraft: Panderans[

sic

], complete with page, price, and ISBN information. Blizzplanet asked DC Comics about this, and the response was that the information was inaccurate and that details on the correct product would be coming in a few months.[4]
At Blizzard's Comic-Con 2010 panel, a slide of pandaren artwork was included at the end of Wildstorm's portion of the presentation. The panelists mocked surprise and quickly returned to the previous slide, saying it wasn't supposed to be there and that they'd get in trouble.[5] A framed art preview was given out to fansite webmasters during the 2012 Mists of Pandaria Press Tour.
References
External links

Blizzard Gear
 Pearl of Pandaria

Amazon.co.uk
World of Warcraft: Pearl of Pandaria
Hc (Hardcover)

Blizzplanet
 Blizzplanet review

WoW Insider
 WoW Insider review