For the graphic novel, see Pearl of Pandaria.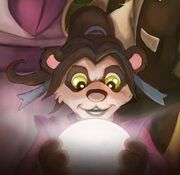 The Pearl of Pandaria is a pearl of unknown origins with the power to grant visions. The naga Zhahara Darksquall was searching for it before her death.
History
Pearl of Pandaria
The earliest known people to possess the pearl were a tribe of murlocs. In her search for the Wandering Isle, the naga Zhahara Darksquall attacked the murlocs to take the pearl from them. However, one of the murlocs escaped with it and was found by the fisherman pandaren Wanyo. Zhahara attacked Wanyo though he escaped with the help of a large fish and was swallowed by Shen-zin Su. Zhahara was convinced he survived and began searching for him or any other pandaren who might know where he was. She would later kidnap Li Li Stormstout in an attempt to find the pearl.
For the next few years, Wanyo lived inside the great turtle. The pearl gave him visions daily of good fishing spots within Shen-zin Su.
Quest for Pandaria

This section concerns content related to the Warcraft novels, novellas, or short stories.
One day, the pearl gave Wanyo a vision of him sailing back to town, and he decided it was time to leave. After being found by Li Li, Wanyo told the elders of the Wandering Isle how he found the pearl. It was placed within the island's library, though Li Li took it. The pearl gave the cub visions of Pandaria, setting her off on a new adventure.
The pearl led Li Li and her uncle Chen across the world on their way to Pandaria, bringing them to Booty Bay, Gadgetzan, and Ramkahen. In Booty Bay it was temporarily stolen by the pirate Catelyn the Blade, where she was given a vision of herself commanding a ship owned by her and not the Blackwater Raiders.
Li Li's Travel Journal

This section concerns content related to the Warcraft novels, novellas, or short stories.
After arriving in The Jade Forest, Li Li gave the Pearl to Elder Sage Rain-Zhu.
Trivia
The original planned backstory for the pearl was to have Shen-zin Su swallow it when he was still a young hatchling. This was later scrapped in favor of it being owned by the murlocs.
Gallery