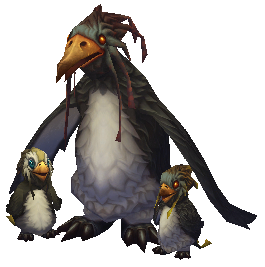 Penguins are black and white flightless birds found in Northrend and Kul Tiras. Some tuskarr breed penguins as farm animals. It seems that a number of wild penguins are led by a large member of the race known as the Penguin King.[1]
Tundra penguins often gather in large groups on the ice for protection against aquatic threats. Unfortunately this makes them easy prey for humanoid hunters seeking meat, skins and other achievements.[2]
Notable
Types
As a companion pet
Warcraft III

This section concerns content related to Warcraft III: Reign of Chaos or its expansion The Frozen Throne.

Penguin critters can be found throughout the Northrend levels of Warcraft III, where they appear to be farmed by the Tuskarr. The mysterious Penguin King also appears in this game. There is also a penguin called Little Timmy, part of a running gag of calling NPCs in Warcraft III Timmy.
Notes
Gallery
See also
References
Creature group
Beast creatures

 

Arthropod

Arachnid
Crustacean
Insect

 

Mammal

Carnivoran
Ungulate

Bovids
Camelids
Cetaceans
Proboscids
Swine
Creature group
Critter creatures

Amphibian
Arachnid
Bird
Crustacean
Fish
Insect
Mammal
Reptile
Other