Penny Clobberbottom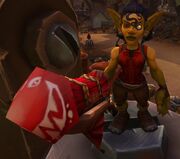 Penny Clobberbottom is a goblin quest giver located at the Beastwatch in Gorgrond. Penny eventually becomes a follower in commander's Garrison.
Later, Gazlowe called her to come to Mechagon Island to assist in rescuing of mechagnomes.
Description
A goblin lumberjack? Seems reasonable. Not that Penny is reasonable.[1]
Abilities
  Clobberbottom's Boomer — Fires a cluster of rockets at a Mechagon Containment Crate.
Arcane Shot
Deterrence
Disengage
Freezing Trap
Multi-Shot
Rapid Fire
Shoot
Stun
Wounded Follower
Quests
Gorgrond
Mechagon Island
 [120 Daily] 

Abduction Reduction
Objective of
Quotes
Dialogue
...
Beastwatch gossip
So this whole fight club thing just isn't my style. I'm more of a rip the trees down with a homemade giant mechanical monster kind of gal.
If you change your mind later, come talk to me and I can flip this fight club out of your way and replace it with a nice big rompin' lumber camp! Complete with its own shredder!
Of course, that ain't gonna be cheap.

 Build the Lumber Yard instead.
Patch changes
See also
References
^  

[

Follower: Penny Clobberbottom

]

(spell)
External links