Pete Stilwell

Role
Developer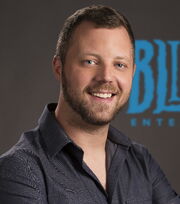 Pete Stillwell is the former senior producer of Classic Games.
Stillwell watched a friend play Warcraft: Orcs & Humans, but was never allowed to play it. He eventually made enough money to buy a PC (by mowing neighbors' lawns), at which point StarCraft was released.[1] He later played Warcraft III, which he has described as the game that made him want to work for Blizzard.[2]
He was involved in the continued development of StarCraft: Remastered, Warcraft III and Diablo II,[3][4] and is the lead producer of Warcraft III: Reforged.[2]
References
External links