Phin Odelic
Phin Odelic was originally a human quest giver located in Southshore in the Hillsbrad Foothills. He was a former member of the Kirin Tor, and a cousin to Farmer Ray.[1] He once led a group of adventurers who investigated odd happenings in the Southshore area. Two of his companions were Quae and Kinelory, who were investigating rumors of a new plague created by the Forsaken at Go'Shek Farm in the Arathi Highlands.
Cataclysm

This section concerns content related to Cataclysm.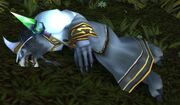 Phin Odelic and Southshore's town leaders escaped the Forsaken's plague-bombing of Southshore, and has taken refuge in Fenris Keep. He accepts Darius Crowley's offer to become a worgen in order to immunize himself from the Forsaken's undeath.
He sides with the Gilneas Liberation Front during the Battle of Silverpine. He engages a force of Forsaken mages along side Loremaster Dibbs. Both are eventually slain in the ensuing conflict.
Quae and Kinelory wanted to avenge him in the Arathi Highlands.[2]
Quests
The subject of this section was removed from World of Warcraft in patch 4.0.3a.
Notes
Gallery
Patch changes
References
^  [33] 

Hints of a New Plague?

^  [10-30] 

Quae Trusts You
External links