A pig is a domesticated descendant of the wild boar (colloquially called the boar). Pigs are much smaller than their wild cousins and are critters in Warcraft III: Reign of Chaos, while they are beasts and companions in WoW. They are often raised by orcs for meat in pig farms.
Golden pig honors its ancestors by giving its allies good fortune.[1] Druids think silver pigs have a special bond with golden pigs, as both breeds appeared on Azeroth at the same time.[2]
A few pigs may, in fact, be polymorphed creatures. Unfamiliar pigs in unlikely habitats should be viewed with suspicion!
Notable


Types
As a companion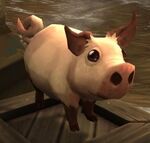 Notes
Gallery
Patch changes
Patch 9.0.1 (2020-10-13): Now tamable as part of the boar pet family.

Patch 8.0.1 (2018-07-17): Model updated with 2 new models, one for a adult pig and one for a piglet.

See also
References
Creature group
Beast creatures

 

Arthropod

Arachnid
Crustacean
Insect

 

Mammal

Carnivoran
Ungulate

Bovids
Camelids
Cetaceans
Proboscids
Swine