Pixies are demigods resembling minute, sword wielding men with butterfly wings. They helped fight during the War of the Ancients.[1]
In the RPG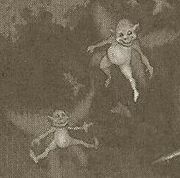 This section contains information from the Warcraft RPG which is considered non-canon.
Pixies are a small race native to the Emerald Dream that share the world with a contingent of fey including sprites and the like.[2]
Trivia
Pixies are winged human-like creatures often associated with England and Scotland.
Kurgatok calls his imp Keb'ezil a pixy during an exchange involving the player.[3] Due to the context, it is apparent that the term was used satirically, as an insult.
Fire Flies from Hearthstone: Journey to Un'Goro are fire elementals depicted as minute humanoids with butterfly-like wings similar to the description of pixies.
See also
References
^ Arthaus. Shadows & Light, 147. ISBN 9781588469731.

 

^  [15-30] 

Magical Disturbances