The subject of this article was removed from World of Warcraft in patch 7.0.3.

This includes items and quests that can no longer be obtained or are now deprecated.
The in-game information in this article is kept purely for historical purposes.
Plague Strike

Level 55 death knight ability
Melee range
1 Unholy
A vicious strike that deals 50% Physical damage and infects the target with Blood Plague.

Usable by
Class
Death knight
Properties
School
Physical
Cooldown
None/Global Cooldown
Other information
Level learned
55
Requirements
Melee weapon
Related buff

Blood Plague
Suffering (23.64% of Attack power) Shadow damage per 3 sec.
Duration: 30 seconds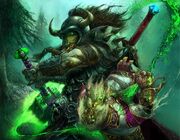 Plague Strike is a Death knight ability that damages the target and applies

[Blood Plague]. Unholy Death knights can also use this ability to apply

[Frost Fever] in addition to its other effects. Death Knights start with this ability. At lvl 80, X=416.
Improvements
Specialization
Frost

[

Threat of Thassarian

]

When dual-wielding, your Death Strikes, Obliterates, Plague Strikes, and Frost Strikes also deal damage with your off-hand weapon, and your Frost Strike damage is increased by 50%.

Unholy

[

Ebon Plaguebringer

]

Increases the damage your diseases deal by 60%, causes your Plague Strike to also apply Frost Fever, and causes your Blood Plague to also apply the Physical Vulnerability effect.
Patch changes
Patch 7.0.3 (2016-07-19): Removed.

Patch 4.0.1 (2010-10-12): Damage increased from 50% to 100% weapon damage to facilitate the runic system change. Constants changed too. Blood Plague now has a standard duration of 21 seconds.

Patch 3.1.0 (2009-04-14): No longer removes heal over time effects. Plague Strike's damage increased quite a bit to compensate. (from 30% Weapon Damage to 50% - flat damage unchanged)

See also
External links