The subject of this article was removed in patch 4.0.3a but remains in World of Warcraft: Classic.

This includes items and quests that can no longer be obtained or are now deprecated.
The categories should reflect this, and should not include retail realm categories.
For the herb that replaced it after the Cataclysm, see  

[

Sorrowmoss

]

.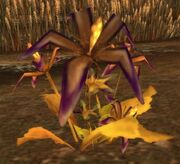 Plaguebloom was an herb that could be gathered with Herbalism (285).
Source
Plaguebloom was found in the Eastern Plaguelands, Felwood, and the Western Plaguelands.
As an ingredient
Alchemy
Inscription
Patch changes
External links
Types of

herbs

Apprentice Herbalism
Journeyman
Expert
Artisan
Master
Grand Master
Illustrious Grand Master
Zen Master
Draenor
Legion

Battle for Azeroth
Shadowlands