Not to be confused with Sands of Nasam, also in Borean Tundra.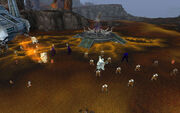 The Plains of Nasam are a region of the Borean Tundra southwest of Warsong Hold. Kel'Thuzad, the lieutenant of the Lich King, stands on a large dais here, surrounded by skeletons, ghouls and abominations. Devices called Scourge Plague Spreaders can also be found here changing the land.
In the quest

 [10-30] The Plains of Nasam, Horde players are called on to drive a Horde siege tank, destroy the undead around the region, rescue injured Warsong Hold troops, and identify the leader of the Scourge forces (Kel'Thuzad).
External links