| | |
| --- | --- |
| | The subject of this article or section is part of Children's Week, a seasonal event that lasts one week. Once the event has run its course, this will no longer be available until next year, but there are no guarantees. |
Objectives
Take your orphan, Roo, to visit Winterfin Retreat [43, 13]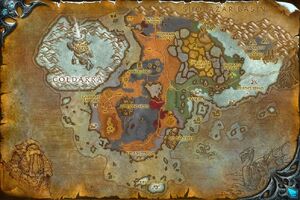 in Borean Tundra. Make sure to call for him if he is not present when you get there.
Roo taken to visit Winterfin Retreat
Description
Orphanage gets real lonely, you know? Sometimes we want to go places, meet new friends.
Maybe you can take us somewheres with other hatchlings? We heard about a place called Winterfin Retreat, in the big Borean Tundra. We think it's way in the northwest, near the edge of the Coldarra-island.
The orphan lady say someone brave save a bunch of hatchlings there. We think they lonely, too. We think they need friends. You take us there?
Rewards
Progress
You take us to Winterfin Retreat? Meet new friends maybe?
Completion
That was fun! We go again sometime? We can't wait to see our new friend again!
Notes
Fly down to the Winterfin Retreat. Land somewhere near King Mrgl-Mrgl and summon Roo if he's not already out. Then watch the script event:
Winterfin Playmate says: Wanna see what I can do?
Oracle Orphan says: Look!
Winterfin Playmate says: Now dance together!
Oracle Orphan says: We can dance too!
Oracle Orphan says: We made a new friend!
Progression
 [10-60] 

Little Orphan Roo Of The Oracles

Complete all of:
Complete both:
 [10-60] 

A Trip To The Wonderworks

 [10-60] 

Back To The Orphanage
Patch changes
External links