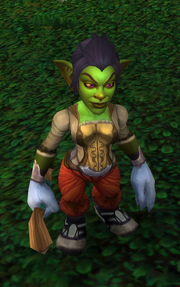 Pleasure Palace Golfers are goblins, orcs, nightborne, pandaren, and Highmountain tauren located in Gallywix Pleasure Palace in Azshara during

 [120] I Take No Pleasure In This.
Abilities
  Charge — Charges the target, moving quickly to their location. 
  Fore! — Smacks the target with a golf club, inflicting Physical damage and knocking them back. 
Objective of
Quotes
Aggro
My next hole-in-one's gonna be with your eyeball!

Disruption on the course! I get a mulligan!

Caddy, get me my driver! This one's going long.

Beat it, <race>. We're busy drinking and eating and drinking again!

I didn't buy the Alliance pushover package!

I don't mind a little extra excitement.

Stay off the green! Your shoes will ruin the grass.
Death
Bury me... in the sand pit.

At least I died... under par.

Best party... of my life.

Caddy, carry me... to the hole.

I want... a refund.

Just one... more... drink...

Tell them... I was under par.

Worst party... of my life.
Gallery
Patch changes
External links