Poison Treant
Race
Corrupted treant
Faction
Neutral (Creep)
Statistics
Hit point regeneration rate
Unknown HP/sec.
Gold Bounty Awarded
Unknown
Sleeps
No
Combat
Normal attack
x avg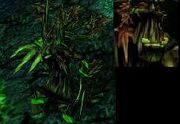 Poison Treants are corrupted treant creeps that can be encountered in the Felwood tileset.
In the single-player campaigns, they appear as members of the Corrupted Ancients.
Spells and abilities

Entangled Units are unable to attack, though they can still cast spells.
| Duration | Targets Allowed | Effect |
| --- | --- | --- |
| 10 sec. | Ground, Non-Hero | Immobilizes, disarms, and deals 10 damage/sec. |
Envenomed Weapons (Passive)

Adds an additional poison effect to attacks.
| Duration (Hero) | Effect |
| --- | --- |
| 20 (10) sec. | 2 damage/sec. |
Gallery
External links

Classic.Battle.net
 Warcraft III - Neutral -> Creeps -> Corrupted Ents