The subject of this article was removed in patch 4.0.3a but remains in World of Warcraft: Classic.

This does not exist on the retail realms anymore.
The categories should reflect this, and should not include retail realm categories.
For the retail version of this quest, see   [1-30] 

Poison Water

.
Poison Water

Start
Mull Thunderhorn
End
Mull Thunderhorn
Level
5 (Requires 4)
Category
Mulgore
Experience
450
Reputation
+250 Thunder Bluff
Next
  [6] 

Winterhoof Cleansing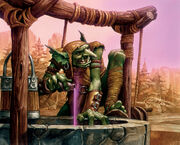 Objectives
Bring 6 Prairie Wolf Paws and 4 Plainstrider Talons to Mull Thunderhorn in Bloodhoof.
Description
Goblins and their servants have tainted our sacred water wells! We cannot allow this.
To cleanse each well, I must create a cleansing totem, then you must bring the totem to the well and perform a cleansing ritual.
First we will create a cleansing totem for the Winterhoof Water Well. To do this, the land must offer its aid. Hunt prairie wolves for their paws and adult plainstriders for their talons. They are to the southwest.
Return to me with the paws and talons, <name>.
Rewards
Progress
Do you have the paws and talons, <name>?
Completion
You have done well, <name>. I will take these and bind their power into a totem of cleansing.
Progression
Patch changes
Patch 4.0.3a (2010-11-23): Replaced by   [1-30] 

Poison Water

.

See also
External links