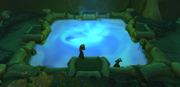 The Pool of Mixed Monstrosities is located just south of Plague Watch at the House of Plagues in Maldraxxus. Foul-Tongue Cyrlix uses it to mix concoctions for his research and has asked for adventurers' aid in gathering the ingredients.
Three types of "Oozing Ingredients" can be gathered from nearby slime creatures and added to the pool: Viscous Oil, Mephitic Goo, and Miscible Ooze. After 30 Oozing Ingredients have been added, a monstrosity will spawn. The first monstrosity killed per day counts as a rare mob.
There are seven possible monstrosities; which one appears depends on the combination of ingredients used. Cecil Chiobrix provides clues as to the possible results.
Details
Ingredient sources
Combinations
Objective of
Related achievements
Patch changes
External links