Porcupines, also known as hedgehogs or quillrats, are huge, quilled rodents found on Pandaria, making their first appearance with the World of Warcraft: Mists of Pandaria expansion.
Porcupine quills are sometimes used for ornamental purposes, and can be sold for a good price.[1] Many believe that the quillrat is able to shoot its spines at aggressors.[2] Although the wounds caused by the young quillrat are seldom fatal, most predators seek easier prey.[3]
Notable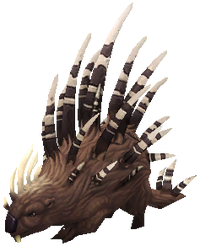 Types
As a companion pet
As a hunter pet
Main article: Rodent
Porcupines are a family of rodent tenacity pets and are tamable by hunters starting at level 84. They like to eat fungus.
Three porcupine spirit beasts can also be found throughout Pandaria.
Notes
Gallery
References
External links

Petopia
Creature group
Beast creatures

 

Arthropod

Arachnid
Crustacean
Insect

 

Mammal

Carnivoran
Ungulate

Bovids
Camelids
Cetaceans
Proboscids
Swine
 

Basic
Special

Acid Bite

Chi-Ji's Tranquility

Defense Matrix

Dragon's Guile

Feather Flurry

Fleethoof

Furious Bite

Grievous Bite

Infected Bite

Nether Energy

Niuzao's Fortitude

Obsidian Skin

Scale Shield

Spirit Pulse

Toxic Sting

Winged Agility

Exotic

Calcified Carapace

Dune Strider

Shimmering Scale

Bonus
Specialization