This article's name is unofficial.

Please note that while the content is valid, this article's name is not official.
This is because no official name is available for the subject of this article. We use a descriptive name instead.
This article should not be moved unless discussed first - Remember to follow the naming policy.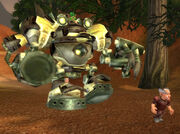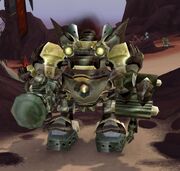 Pounder robots are a type of mechanical gnomish constructs, seemingly the hammer-wielding counterpart to the goblin shredder. The "super rig" may be one.
Arcane titans have a similar appearance to pounder robots, and given Mechano-Lord Capacitus's voice and the placement of The Grinder, they may be advanced versions.
Known
Notes
The name pounder robot comes from their model and sound file names which are called GnomePounder and the fact that they are robots.
The non-canon RPG would call them a type of steam armor.
Gallery
Creature group
Mechanical creatures