For the Horde version of this quest, see  [10-40] 

Prepare for Battle

.
Objectives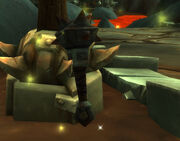 Obtain 30 Blackrock Weapons.
Description
There's nowhere to hide up here. We need to keep moving, and to do that, we need to pass right through the heart of the Iron Horde.
It's time to turn this unarmed group of prisoners into an army.
Rewards
You will receive one of:
You will gain the following spells:
You will also receive:
Progress
These prisoners are no less brave than you or I, <name>. Give them a weapon and an ounce of hope and they will fight like the storm.
Completion
Great work, <name>.
Don't put away your weapon yet - now's when the REAL work begins.
Notes
Before heading out to complete the quest, Thrall gives the freed slaves elemental blessings, while Yrel and Liadrin use the Light to treat the injured.
Thrall yells: Fury of Earth, grant these heroes your protection!
Thrall yells: Fury of Fire, ignite our fists and weapons!
Thrall yells: Fury of Wind, honor these soldiers with your presence!
Thrall yells: Fury of Water, heal our injured!
Loot weapons off the ground and kill Blackrocks for more. Weapon racks hold a half-dozen.
After gathering 30

Blackhand yells: What's this? What's going on down there?
Turnin

Exarch Maladaar yells: Come, my brothers and sisters! We will bring justice to our dead by sending these orcs to the darkness beyond!
All of the freed slaves charge forward to the pile of weapons, preparing to fight, then gather down at the end of the road.
Progression
 [10-40] 

Azeroth's Last Stand

 [10-40] 

Onslaught's End

 [10-40] 

The Portal's Power

 [10-40] 

The Cost of War

Complete all of:
 [10-40] 

Altar Altercation

 [10-40] 

The Kargathar Proving Grounds

 [10-40] 

A Potential Ally

 [10-40] 

Kill Your Hundred

Complete all of:
 [10-40] 

Keli'dan the Breaker

 [10-40] 

Prepare for Battle

 [10-40] 

The Battle of the Forge

Complete all of:
 [10-40] 

A Taste of Iron

 [10-40] 

The Home Stretch
Patch changes
External links