The Prepfoot Compound is a small Highmountain tauren village nestled in the seaside cliffs in northeastern Highmountain.[60, 30]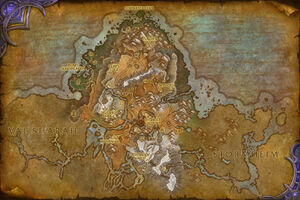 It is the main base for the Prepfoot, a group of tauren who believe that Deathwing will soon return and that the end of the world is imminent.
A small storehouse where the Prepfoot store their supplies is found at the southeastern end of the compound. Below the eastern side of the village, there is a small lake with a graveyard on the eastern end.
Patch changes
External links