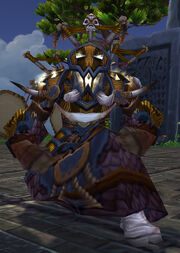 Prophet Khar'zul is the leader of Zandalari expedition in Pandaria. He resides at Thunder's Call on the northern end of Isle of Reckoning and plans to resurrect the first emperor of the mogu, Lei Shen - the "Thunder King".
Abilities
Objective of
Quotes
Da Thunder King lives! Our empires be united once more...

Feed you to da crows!

We NEED dis land! Da cataclysm destroyed our home!

Dis only just begun... we ain't gonna jes... roll over and die...
Trivia
Patch changes
External links