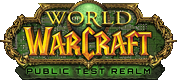 A Public Test Realm (or PTR, test server, and test realm) is a special server where upcoming features are tested for the next upcoming patch. There are separate PTR servers for each flavor, and each has one or more realms.
You can make a character on the test realm from a copy of one of your characters on a normal realm or from a premade. Whether there will be premade or not will be clearly announced. Players on test realms should not be surprised by character wipes, item wipes, or frequent downtime to make changes or apply patches, so don't get too attached to your character on these servers.
For a guide to getting on the test realm, see Getting on the Test Realm.
Games
Blizzard uses the PTR for most of their games:
Trivia
Gallery
See also
External links