For the item, see  

[

Pure Water

]

.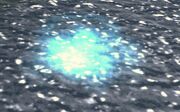 Summary
Fishing Skill needed: 375 + lure.
Location: Various places in Nagrand. It can also be found at the Elemental Plateau in Nagrand which requires a flying mount or druid Flight form to reach.
These pools can be fished with about a 50% rate of catch at skill level 320+100 lure, though motes can be caught from level 125.
Contents
A pure water pool contains 0-8

 [Mote of Water]. It is possible to fish with 475 skill without missing a catch, although 500 is best. A fresh pool will contain anywhere from 2-4 catches in availability. It is possible to catch 0 motes in a pool, however, because there is about a 10% chance for such items as
 [Inscribed Scrollcase] to drop, and as such you can fish out a pool with items like this. When you catch an actual mote, you have a 50% chance to get one or two motes. Therefore it is possible to get between 0 and 8, both of which have occurred.
Pure Water pools share spawn locations with
 [Icefin Bluefish] and

 [Figluster's Mudfish]. Exhausting these pools will increase the chances of a pure water pool spawning.
Patch changes
External links
Fishing pools

World of Warcraft
The Burning Crusade
Wrath of the Lich King
Cataclysm
Mists of Pandaria
Warlords of Draenor
Legion
Battle for Azeroth
Shadowlands

Pocked Bonefish School

Spinefin Piranha School

Removed