Putrid Geist
Putrid Geist
Use: Teaches you how to summon this companion.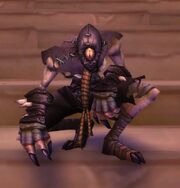 Putrid Geist can be purchased for 20
from Commendation vendors in Stormwind, Orgrimmar, and Icecrown during Death Rising:
Pet Journal
Despite being decrepit and undead, geists move with exceptional speed and agility.
Battles
Dragonkin: Deals 50% additional damage on the next round after bringing a target's health below 50%.
Patch changes
External links
Battle pet types
Undead battle pets