Pygmies are a race of small, primitive humanoids found on the Lost Isles and in Uldum. They share an unknown common ancestor with goblins.[1]
History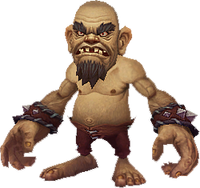 On the Lost Isles
The pygmies on the Lost Isles are found by the Bilgewater Cartel goblins after the goblins' escape from Kezan. The pygmies have enslaved the monkeys on the island to mine kaja'mite. They worship Volcanoth, and transform some goblins into zombies by sucking out their life-force, while others are sacrificed to their "god".[2] The pygmies also planned to release Volcanoth upon the Town-In-A-Box, but were unable to do so.
In Uldum
In Uldum, after the player follows Adarrah, Budd Nedreck and the others on a camel caravan into Uldum to help them steal ancient artifacts, the caravan is ambushed by pygmy mercenaries. The pygmies bring the prisoners to the Neferset tol'vir, who pay the pygmies with coconuts.
Appearance and culture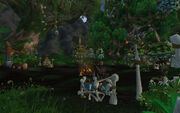 Pygmies are small humanoid creatures, about the size of goblins. Their skin ranges in many tones of peach to dark brown.
Pygmies on the Lost Isles can be seen riding turtles, and many wear helmets fashioned from turtle shells. Turtle shells can also be seen in their architecture, ranging from giant shells serving as huts to relatively small ones adorning torches.
Pygmies appear to have their own language.
Magic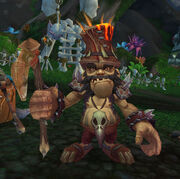 Pygmy witch doctors use necromancy, shadow as well as elemental magic. However, pygmy shaman use only elemental magic.
Known tribes
Unnamed tribe — found in Uldum, led by Sultan Oogah, and consists of scouts and thieves.
Notable
Notes and trivia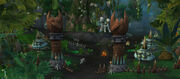 Gallery
References