For the talent tree for mages, see Fire (talent tree). For the prestige class, see Pyremaster.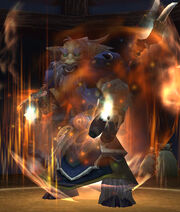 Pyromancers (or pyromages and firecallers) are mage and shaman spellcasters who specialize in fire-based spells or pyromancy.
A philosophical question that was asked by mages of the Kirin Tor was if created fire was called into being or was summoned from some parallel existence.[1] Although fire can be created by concentrating on the inherent nature of fire[2][3][4] it can also be summoned.
Races and factions
Blood elf
A lot of blood elf mages are specialized in fire.
Dark Iron dwarf
As a consequence of their lifestyle or of their enslavement by Ragnaros, the Dark Iron dwarves had some pyromancers. Under the control of Moira Thaurissan, Pyromancer Scorchbrew trains the dwarven mages in Ironforge while Pyromancer Flamehearth accompany his queen.[5]
Dark Horde
The Dark Horde had some Firebrand Pyromancers in the Firebrand Legion.
Mogu empire
Some mogu manipulate fire[6] but Shan'ze Pyromancer is the only known pyromancer.
Twilight's Hammer
The Twilight's Hammer have a lot of pyromancers. Most are found in Ulduar.[7] Pyromancer Loregrain is the most notable pyromancer of the Twilight's Hammer.
Yaungol
The Jilvici are four yaungol spell-casters that maintain a fire barrier to prevent assault on their chief, in southern Kun-Lai Summit.[8] Bearing the titles "the Blazecaller", "the Embercaller", "the Firespeaker" and even "the Pyromancer", all four specialize in fire magic and can be considered pyromancers. The first three of these titles may represent alternative descriptions for the powers of a pyromancer.
Known
Pyromancy
Pyromancy uses mainly fire as the basis for spells. Some pyromancers can invoke fire elementals.[9] Most spells used in pyromancy come from various classes such as fire mage, shaman, and destruction warlock.
In the TCG

This section contains information from the World of Warcraft Trading Card Game and is considered non-canon.
Fire magi focus their training on maximizing the potency and impact of their fire-based spells.[10]
Myth
A pyromancer is someone that knows the art of divination by means of fire.
Notes
The incantation used to conjure fire for one spell (e.g:

[

Fireball

]

) might be the same incantation used to conjure fire for another spell (e.g:

[

Pyroblast

]

); Micky imagines if there is a difference in incantation, it's minor.[11]
Gallery
See also
References