Qiraji emperor
This article's name is unofficial.

Please note that while the content is valid, this article's name is not official.
This is because no official name is available for the subject of this article. We use a descriptive name instead.
This article should not be moved unless discussed first - Remember to follow the naming policy.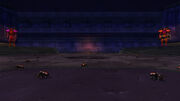 Qiraji emperors are a type of qiraji who command powerful psionic abilities, feeding off other nearby emperors' powers to fuel their own.
Known qiraji emperors
Trivia
Qiraji emperors use the same skeleton as night elf males.
The name for this qiraji type is taken from the game files, as no other name is known.
Patch changes
Patch 5.1.0 (2012-11-27): These creatures are now classified as Humanoids instead of being uncategorized.

Patch 2.0.3 (2007-01-09): Model updated.