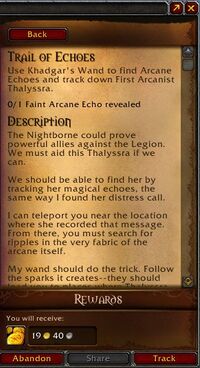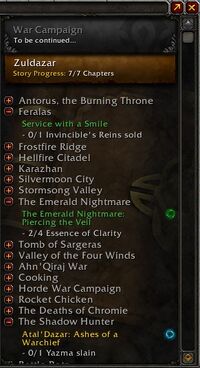 The Quest Log is a window found on the right-hand side of the Map & Quest Log interface, listing the status and details of all currently active quests the character has not completed, or completed but not turned in.
Quests are organized by geographical region in collapsible sections (clicking the + by the region name expands to show quests in that region and clicking the - hides the quests in that region).
The Quest Log interface can be viewed through the Map & Quest Log interface when it is not being shown fullscreen. Clicking the

icon will open and close the Quest Log.
Quest difficulty and colors
The difficulty of the quests is indicated by colors relatively to the character's level:
| Color | Difficulty | Notes |
| --- | --- | --- |
| Gray | Very easy | Doesn't give any XP. May lead to harder quests. |
| Green | Easy | The player should probably complete quest before levelling. |
| Yellow | Medium | Gives good XP without being too hard. |
| Orange | Hard | Can be done but caution is necessary. |
| Red | Very hard | Almost impossible. |
Notes
Gallery
Patch changes
 

Expansion features