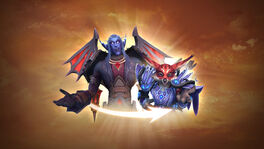 A Race Change is a paid service that was first available on October 27, 2009. Characters can change their race for $25 (USD) but not the faction.
Restrictions
What changes
Each Race Change includes an Appearance Change and optional Name Change services. If you choose a new character name, other players cannot use the old name on the realm for 30 days. You can create a new character with the old name within that time if you want to keep it.
The reputation level associated with the character's previous race is switched with that of the character's new race. All other reputations are unaffected.

Note: Allied Race reputations are neutral. Converting to or from an Allied Race will have no effect on those reputation levels.

The character's Armory profile will eventually reflect the changes.
What doesn't change
Note: Certain race-specific quests may remain on the character, despite being impossible to complete
Notes
Despite race change aspects of the Faction Change service, the mechanisms are different.[3]
References
See also
External links