For character biography, see Ragnaros. For strategy on the Firelands encounter, see Ragnaros (Firelands tactics).
Ragnaros is a boss found in Ragnaros' Lair of the Molten Core.
Abilities
  Wrath of Ragnaros — Inflicts 1000 Fire damage to nearby enemies, knocking them back. Used on units in melee. 25 yard knockback (3 sec cooldown)
  Elemental Fire — Ignites the target, dealing 2160 to 2640 Fire damage and 600 Fire damage every 1 sec for 8 sec. Cast on primary aggro target.
  Magma Blast — Inflicts 6000 Fire damage to an enemy. 1 sec cast. Cast on random units if Ragnaros cannot melee anyone.
  Melt Weapon — Randomly deals 1 point of durability damage to weapons inflicting melee strikes on Ragnaros
  Wrath of Ragnaros — Inflicts 1000 Fire damage to nearby enemies, knocking them back. "By fire be purged!" This attack targets a random player with a mana bar and knocks back all players (excluding the target) within ~20 yards. They are knocked back from the impact point which is at the foot of the target. (20-30sec cooldown)
Lava Splash — Localized damage :At various times a lava splash will be triggered which cause large damage to all those hit. It will affect anyone within close proximity to a lava flow. With decent fire resist (150+) it should be partially resisted most of the time. It can be partially resisted with the standard mechanic; every 100FR equals about 25% damage reduction.
Summon Sons of Flame

After 3 minutes of combat Ragnaros will summon 8 Sons of Flame and submerge. After 90 seconds or once they are defeated (whichever happens first) Ragnaros will reappear. This process continues after a further 3 minutes until either your group or Ragnaros is dead. Be aware that Ragnaros considers Banished sons as defeated and can resurface prematurely. See below for a detailed Sons of Flame strategy in Phase 2.
Seasons of Mastery
During the Season of Mastery, Ragnaros will submerge at 50% health regardless of how much time has elapsed. After he emerges, Sons of Flame will continue to spawn from random areas within the lava for the rest of the fight. In addition, Ragnaros will permanently despawn if he is not killed within 60 minutes.
Summoning
Ragnaros is summoned by Majordomo Executus who will perform the summoning upon a player's request through a dialogue. Executus must be defeated as an boss before he agrees to do so. Moreover, Executus will only be summoned when the runes of warding has been deactivated. They are deactivated by killing the bosses that guard them, which means every initial boss (except for Lucifron) in the Molten Core has to die before Ragnaros can be summoned.
Preparation
The whole raid needs to know where the exits from the lava are, because everybody has a good chance to take an involuntary lava bath.
Fire resistance is the key to surviving his attacks.
Your MT should have at least 300 (315 is recommended with buffs) fire resistance.
No member should exceed 315 resistance buffed as it is the maximum effective level of resistance. (See:Resistance) This is a DPS fight, you will need as much DPS gear as you can wear while maintaining a healthy, but not excessive level of resistance.
Any melee classes should have at least 200.
Any other class should have at the very least 100 (unbuffed), or they won't be around very long. In each case, more fire resistance is better.
Everyone in the raid should use anywhere from 1-3 fire protection potions during the fight to stay alive. Preferred a few seconds before the sons of flame spawn.
All ranged DPS (Mages, Hunters, Warlocks) should keep in mind that it is impossible for them to pull aggro from the MT. Ragnaros will always attack players who are in melee range first, regardless of their position on his hatelist (so don't hold back on DPS).
From the time you get Domo to summon Ragnaros you have 2 hours to defeat him, after which he submerges. Majordomo Executus will respawn within 2 to 3 hours.
HINT: Head your raid (up to 10 players at time) to LBRS and Mind Control one or more Scarshield Spellbinders (you can find them just at the entrance under the bridge), at this point provide all players with his +81 Fire resistance buff. The buff lasts 60 Minutes, and is on a 30 second cooldown. This trick was initially thought to be a bannable offense, but it is actually perfectly legal and ok to use.
Set-up
All melee and close support need to be on the inner ring engaging Ragnaros while he is up. Note that placing any class with a mana bar in melee range will mean that those in melee range will be at risk of being knocked back by his targeted knockback ability.
All the healers and ranged support should be on the secondary ring away from Ragnaros. They must also stay away from the lava flows or they will be affected by the lava splashes.
All players should spread out so that they are not knocked back and damaged when Ragnaros uses his ranged knock back ability.
This means that melee should be around Ragnaros generally on the south, west and north parts of the inner ring, and the ranged is on the south and west portions of the outer ring. There are small patches of wall on the outer rings that, when stood directly against will usually prevent Ragnaros' random fireballs from knocking you back.
Strategy overview
This fight alternates between two stages - in the first, Ragnaros is up and everybody concentrates on DPSing him, in the second Ragnaros is immune to DPS, and the raid has to deal with his sons instead. Ragnaros is always up for 3 minutes (stage 1), then submerges for 90 seconds. This alternates until either the raid is wiped or Ragnaros is dead.
The basic idea is to get him down to 30%-40% before the first wave of sons, to be able to kill him before the second. If your warriors and warlocks are up to the task, it is possible to get him down between the second and third wave of sons, but there's not much point in holding back DPS as no tradeoff between survivability and doing damage is possible.
Phase 1
Have your MTs run in and attack, and have all your melee and ranged DPS assist. You have 3 minutes before he submerges.
Ranged DPS should immediately burn trinkets and cooldowns to maximize damage. So long as anyone is within melee range of Ragnaros, ranged will never pull aggro, thus dish out as much as possible.
Ragnaros will shoot random explosions that knock people into the air (often into the lava) and do a lot of damage. Players knocked away must return to their designated areas so they can be in range of the healers, as they will be very busy.
Ragnaros also has an AoE knockback ability that he does every 25 seconds. All melee types except the MT should back out before this happens and then re-engage immediately afterwards.
20 seconds before Ragnaros submerges and spawns Sons of Flame, the whole raid (exc. the MT who keeps tanking until the submerge) should collapse to the southern lip of the outer ring, as to be ready to handle the sons when they spawn. Mages should already be positioned at the collapse point. Mana users should be at the very edge of the ring, as to avoid the Son's massive mana burn aura. Tanks and Rogues should form a wall in front of the casters.
Phase 2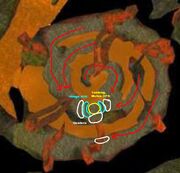 Ragnaros submerges and 8 "Sons of Flame" come out. They do purely fire-based damage and have an AoE mana burn, so you need to keep them away from your mana-users.The sons spawn from around the spiral that Ragnaros is along the west, north and east side, and then rush south to meet the raid. The sons damage is entirely fire based, so with decent fire resistance you will take very little damage from them.
Control them with warriors, mage frost novas, mage blizzard, perhaps bear tanks, hunter freezing traps and kill them all (there is not much time for banish, but some guilds choose to banish a few). The Sons should be tanked and banished while they are brought down one after the other. It is important to always have at least one that is not banished, as sometimes when all the remaining sons are banished (or otherwise incapacitated) Ragnaros will re-appear. If this happens you are very likely looking at a wipe. Also you must deal with the Sons quickly as Ragnaros will surface after 1 1/2 minutes whether they are dead or not. To accomplish this everyone MUST be assisting one person that is picking targets. If attacks are spread out they will take too long to kill. With all DPS on one Son you should be aiming to drop one every 10 seconds or less.
Ragnaros will come back after 90 seconds or when all sons are dead, whichever happens first. When you are nearing the 90 second point in the fight it is critical that you send the main tank, secondary tank and their healers back to engage Ragnaros when he re-enters combat. If the tank is not there Ragnaros will start throwing Magma blasts. Once the rest of the group has killed any remaining sons they should re-enter combat with Ragnaros.
Phase 3
Same as phase one. You have 3 more minutes before he submerges again for another minute-and-a-half session with the Sons of Flame.
Generally, you want to kill him before the Sons spawn again or else you will probably die. If you don't get him to at least 40% HP before the end of Stage 1, then you probably won't accomplish this goal.
Loot
Ragnaros drops two Tier 2 legs, two non-set items, and various lower-level rare items.
Ragnaros loot

| Tier 2 leggings | Off-set items |
| --- | --- |
| | |
You receive 200 Reputation with the Hydraxian Waterlords at all reputation levels.
Sulfuras, Hand of Ragnaros
Ragnaros approximately has a 3% to drop the legendary
 [Eye of Sulfuras]. The Eye of Sulfuras, when combined with a

 [Sulfuron Hammer], creates the legendary hammer,

 [Sulfuras, Hand of Ragnaros]. In order to learn how to the craft the Sulfuron Hammer, you must turn in one

 [Sulfuron Ingot] to the Thorium Brotherhood member Lokhtos Darkbargainer located in the Blackrock Depths. The Sulfuron Hammer can only be crafted using the Black Anvil. The Sulfuron Hammer takes the following materials to craft.
Thunderfury
To get the quest you need :
For more details see: Molten Core Loot
Related achievements
Quotes
Summon

The Firelord and his brethren once held sway over this entire world, mortal. As a servant of the Old Gods, he fought against the Titans for domination of this planet. The victorious Titans banished my master and his brethren to the Elemental Plane - there to remain imprisoned until the end of time.

 Tell me more.
A mere three hundred years ago, a reckless dwarf named Thaurissan summoned the master from his fiery realm. His return to this paltry world devastated the surrounding lands and created this volcanic Core. Mighty Ragnaros has slept under this mountain ever since.

 What else do you have to say?
We, his sworn servants, do his bidding and enforce his iron-rule. Cut off from the energies of his fiery realm, Ragnaros is but a shadow of his true self. However, he has more than enough strength to be your end.

 You challenged us and we have come. Where is this master you speak of?
Majordomo Executus says: Very well, <name>.
Majordomo Executus yells: Imprudent whelps! You've rushed headlong to your own deaths! See now, the master stirs!
Majordomo Executus yells: Behold Ragnaros - the Firelord! He who was ancient when this world was young! Bow before him, mortals! Bow before your ending!
Ragnaros yells: TOO SOON! YOU HAVE AWAKENED ME TOO SOON, EXECUTUS! WHAT IS THE MEANING OF THIS INTRUSION???
Majordomo Executus yells: These mortal infidels, my lord! They have invaded your sanctum and seek to steal your secrets!
Ragnaros yells: FOOL! YOU ALLOWED THESE INSECTS TO RUN RAMPANT THROUGH THE HALLOWED CORE? AND NOW YOU LEAD THEM TO MY VERY LAIR? YOU HAVE FAILED ME, EXECUTUS! JUSTICE SHALL BE MET, INDEED!
Ragnaros kills Executus with Elemental Fire, instantly killing him and empowering himself.
Ragnaros yells: NOW FOR YOU, INSECTS! BOLDLY, YOU SOUGHT THE POWER OF RAGNAROS. NOW YOU SHALL SEE IT FIRSTHAND!
Killing a player

DIE INSECT!
Ranged knockback

BY FIRE BE PURGED!
Melee knockback

TASTE THE FLAMES OF SULFURON!
Berserk

MY PATIENCE IS DWINDLING! COME, GNATS: TO YOUR DEATH!
Summoning Sons of Flame

COME FORTH, MY SERVANTS! DEFEND YOUR MASTER!
Unused quotes
Majordomo Executus: My flame... Please, don't take away my flame...
Ragnaros: YOU CANNOT DEFEAT THE LIVING FLAME! COME YOU MINIONS OF FIRE! COME FORTH YOU CREATURES OF HATE! YOUR MASTER CALLS!
Patch changes
Videos
See also
TCG cards:
External links
Raid final bosses

Bosses in grey were redesigned in a later expansion or removed from the game.