For lore about raiders, see Raider.
Raider
 
Race
Orc
Statistics
Hit Points
90
Armor
5
7 (1 upgrade)
9 (all upgrades)
Basic Damage
13
15 (1 upgrade)
17 (all upgrades)
Piercing Damage
1
Range
N/A
Speed
8
9 (1 upgrade)
10 (all upgrades)
Sight
3
Decay Rate
N/A
Production Related
Gold
850
Lumber
0
Produced at
Barracks
Requires
Kennel and Blacksmith
Build time
800
Campaign
Unlocked in
The Red Ridge Mountains
Raiders are the most vicious of the Orcish hordes, these minions of Blackhand are trained to show no mercy. Riders of the darkwolves, these savage warriors use the speed and ferocity of their mounts to make them a deadly enemy. Faster than those who attack on foot, they have perfected the tactics of tearing through columns of enemy soldiers like a hot wind.[1]
Information
Raiders are the main melee attacking unit. They are extremely useful as they have a good amount of HP and five points of armour. Their main usefulness is the fact that they are the fastest unit, and can also be upgraded to become even faster, making them useful in luring the enemy into a barrage of spears. They are also very useful against Catapults and spell casters; Catapults aren't able to hit a Raider due to the former's slow attack speed and a spell caster is only useful from afar.
Upgrades
Upgrade

A

xe Strength
| Research Cost | Researched At | Upgrade Time |
| --- | --- | --- |
| 750 | Blacksmith | 120 |
Upgrade

A

xe Strength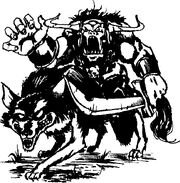 | Research Cost | Researched At | Upgrade Time |
| --- | --- | --- |
| 1500 | Blacksmith | 120 |

Upgrade

S

hield Strength

Increases the armor of all your units and buildings by 2
| Research Cost | Researched At | Upgrade Time |
| --- | --- | --- |
| 750 | Blacksmith | 120 |
| Research Cost | Researched At | Upgrade Time |
| --- | --- | --- |
| 1500 | Blacksmith | 120 |

B

reed Faster Wolves

Increases the speed of Raiders by 1
| Research Cost | Researched At | Upgrade Time |
| --- | --- | --- |
| 750 | Kennel | 140 |
| Research Cost | Researched At | Upgrade Time |
| --- | --- | --- |
| 1500 | Kennel | 140 |
Quotes
See also
References