Raise Dead is a level 12 Death knight ability that allows the death knight to raise a Risen Ally as a temporary combat pet. At level 29,

Unholy Death Knights learn rank 2 of the spell, which makes their combat pet permanent until death. This creature has a number of abilities including a stun, which can also be empowered for a short time with

[Dark Transformation].
Background
Raise Dead and other similar abilities have been a staple of the Warcraft series, commonly used by practitioners of necromancy, including Necrolyte units in Warcraft I, Death Knight units in Warcraft II, and Necromancer units in Warcraft III.
Improvements
Glyphs
Patches and hotfixes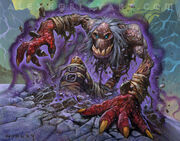 See also
References
External links