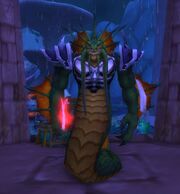 Rajah Haghazed is a naga and leader of the Darkcrest tribe found in Darkcrest Enclave in Zangarmarsh. He was a fearless warrior and one of the Cenarion Expedition's most feared adversaries[1] until Warden Hamoot sent adventurers to kill him.
Abilities
Forceful Cleave
Mortal Strike
Shield Charge
Shield Wall
Objective of
Quotes
Rajah Haghazed discards his weapons and reaches for a polearm!
Strategies
Immune to snare, root and fear. At half health, he switches from sword and shield to polearm dropping his armor significantly, but hits harder and starts using mortal strike.
Some classes may be able to solo him with difficulty at the level you pickup this quest, such as paladins, pet users and properly specced mages, but it is generally a much better idea to form a group.
Notes
The index of the Ultimate Visual Guide book confirms that Rajah is his title rather than his name.
Patch changes
References
External links
Leaders
Former leaders
Former secondary leaders
Characters
Former characters
Races
Cities
Territories
Groups
Technology