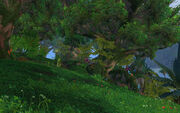 Raptor Rise is the cliff side just east of the Town-In-A-Box on the Lost Isles. A path which travels through this area leads to the Oomlot Village and Ruins of Vashj'elan. Spiny Raptors are found here.
Notes
After the volcano erupts the lands to torn and covered in lava. The raptors abandon the area, leaving only the Jungle Panthers.
Although here before the eruption, the raptors on the ledge just north of Oomlot Village can still be found here.
Gallery
Patch changes
External links