This article contains creatures from concept art. It may not exist in the Warcraft universe.

This article is kept purely for historical purposes and should probably not be under any other categories.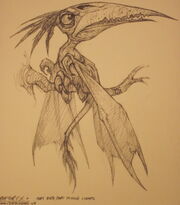 A raptoryx is a half-lizard, half-bird creature concept that resembles a pterrordax and would have likely been found on the Lost Isles.
They are likely inspired by the archaeopteryx.