Rated battlegrounds consist of pre-made battleground teams in a 10v10 bracket.
As the highest-level form of battleground play in the game, rated battlegrounds typically see fierce competition between highly organized teams, with personal and team ranking at stake. Rated battlegrounds feature tighter restrictions on items and abilities, as with Arena play. All included battlegrounds are also scaled to 10v10, changing the pace of some battles.
Rated battlegrounds offer substantial rewards in the form of


[Conquest Points], and are a decent option for earning new gear. However, the consequences for ratings are perhaps a more important motivation for success in these battles, providing not only personal glory but also a shot at rating-restricted titles, mounts and achievements. As with arena, the top rated teams in each region can be viewed on the official site.
While broadly similar to regular battlegrounds, rated battlegrounds tend to feature far more organized play, with teams customized to provide the ideal combination of classes and roles. Players are usually in voice communication, and may have prearranged tactics and plays in mind. For a general discussion of battlegrounds, see battleground.
Rated battlegrounds can be queued for in the Rated pane of the PvP interface. This can only be done by the leader of a party with a sufficient number of members.
Notes
Capture the Flag rated battlegrounds last for 20 minutes, as opposed to their regular versions which last only 15.[1]
Like Arena, rated battlegrounds are not faction-limited and may see players facing off against another team of the same faction. Battleground asymmetries remain in place, however.
Like other forms of PvP, rated battlegrounds are affected by PvP item level adjustments.
Flask of Conquest
 [Flask of Conquest] is a special potential drop at the end of a Rated Battleground match. The flask increases Conquest Point gains from Arenas and Rated Battlegrounds by 25% for 2 hours and the effect persists through death. The flask does not affect the character's Conquest cap and the drop chance is in addition to the existing chance for Conquest Points.
Battlegrounds
All rated battlegrounds are 10v10 battles.
Rewards
Honor titles
Epic ground mounts
Guild achievements and experience
History
Removed features
Battlegrounds
15 vs 15
25 vs 25
Canceled features
These features were canceled or removed as the Rated Battleground concept evolved on Beta & Live.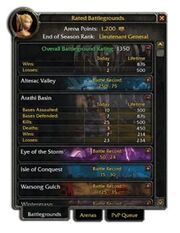 New Alterac Valley person max group signup of 25 people at a time, down from 40. This was eventually cancelled during beta [2]
Rated Battlegrounds are broken down into three brackets. 10v10, 15v15, & 25v25. These brackets rotate weekly and can be viewed in-game via the calendar by activating the battleground holiday filter. [3]
When players win a battle, they are rewarded conquest points, up to their weekly cap. Weekly caps are individual for each player and are based on your highest single PvP rating from the previous week (the cap resets on Tuesdays). This rating can be derived from your 2v2, 3v3, 5v5 arena, or your rated battleground rating.[3]
If you lose a battleground, you will usually not suffer any rating loss.[3]
Rated battleground are only available to level 85 characters[4]
New UI showing PvP stats and the possibility to queue from anywhere with the new 'rated' option. [citation needed] 
Patches and hotfixes
References
External links

WoW Insider
 Rated Battlegrounds FAQ