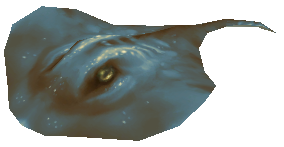 Rays, often called stingrays, are fish with long tails and flattened bodies found in the waters of Vashj'ir, Pandaria, the Wandering Isle, and Darkmoon Island.
The fast and nimble sting ray pups are highly desired by pet collectors. Though they can appear friendly, their tail stinger can kill on contact.[1] Little is known about the elusive darkwater skate species, found only in the dark waters surrounding Darkmoon Island.[2]
Types
As a mount
Main article: Darkwater Skate
 [Darkwater Skate] can be purchased from Galissa Sundew <Fishing Prizes> on Darkmoon Island at a cost of 500

.
As a companion pet
Main article: Sting Ray Pup

 [Sting Ray Pup] can be purchased from Conjurer Margoss at Margoss's Retreat in Dalaran at a cost of 50

upon reaching Good Friend with him.
As a hunter pet
Rays are a family of Ferocity hunter pets. Aquatic stingrays are not included in this family, and it instead consists of the following races of flying ray-like creatures:
The family was originally named nether ray, but was renamed in patch 8.2.0 to account for the addition of fathom rays.
Patch changes
Items
Notes
Rays have been part of underwater landscapes since the original World of Warcraft, but made their first appearance as attackable mobs in Cataclysm.
References
External links

Petopia
Creature group
Beast creatures

 

Arthropod

Arachnid
Crustacean
Insect

 

Mammal

Carnivoran
Ungulate

Bovids
Camelids
Cetaceans
Proboscids
Swine
 

Basic
Special

Acid Bite

Chi-Ji's Tranquility

Defense Matrix

Dragon's Guile

Feather Flurry

Fleethoof

Furious Bite

Grievous Bite

Infected Bite

Nether Energy

Niuzao's Fortitude

Obsidian Skin

Scale Shield

Spirit Pulse

Toxic Sting

Winged Agility

Exotic

Calcified Carapace

Dune Strider

Shimmering Scale

Bonus
Specialization