Main article: Baron Silverlaine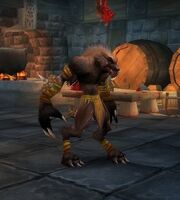 Razorclaw the Butcher, having already been killed in the past, has a chance to be summoned as a ghost worgen by Baron Silverlaine when his health is brought to ~25%.
Background
Prior to being killed, Razorclaw inhabited the former kitchen of Shadowfang Keep. He slaughtered many innocent humans in Shadowfang Keep when brought in by his master Arugal, hence his nickname.
As a boss
The subject of this section has been removed from World of Warcraft.
Strategy
Razorclaw is easy, just have a tank keep aggro and then bring him down. There is a patrol which walks around outside his room, to ensure you don't end up fighting them with Razorclaw it's best to kill them first.
Loot
Patch changes
See also
External links