For the wind serpents found on Island Expeditions, see Razorwing (Island Expeditions).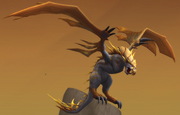 Razorwings are wyvern-like flying beasts native to Korthia and mainly found at the Windswept Aerie.[1] They are solitary predators who are feared for their grisly hunting tactics: they swoop down on unsuspecting prey and savagely eviscerate them.[2] Their boney beaks can snap through armor[3] and their powerful claws have been known to perforate even the strongest equipment.[4] Their spines are thin, hollow, and needle-like.[5] Their hides are light, allowing them to fly, but also quite tough, which allowed them to survive Korthia's arrival to the Maw.[6] Razorwings make their nests on high hills and in trees.[7] They sometimes abandon their own eggs by knocking them out of their nests.[8] They generally stay away from other Korthian species, but they can be tamed with time and patience.[9]
Notable specimens and types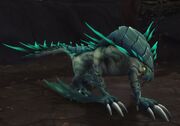 As a mount
Main article: Razorwing mounts
Trivia
In early PTR builds, they were also called slitherwings or saberwings.
Razorwings use the same animation skeleton as wyverns.
Gallery
References
Creature group
Beast creatures

 

Arthropod

Arachnid
Crustacean
Insect

 

Mammal

Carnivoran
Ungulate

Bovids
Camelids
Cetaceans
Proboscids
Swine

 

Other

Amphibian
Echinoderm
Razorwing

Feathermane
Mollusc
Worm