Reawakening (quest)
Reawakening

Start
Runecarver
End
Runecarver
Level
60 (Requires 60)
Type
Legendary
Category
Maw
Rewards
7 71 50
Previous
 [60] 

Deep Within

Next
 [60] 

A Damned Pact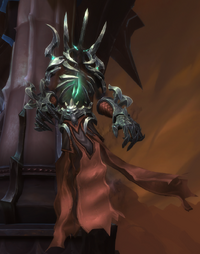 Objectives
Find a stolen memory of the Runecarver.
Description
If you can retrieve my memories, I can help you. At least I believe I can.
Then, perhaps, we can help each other.
Rewards
You will receive:
Progress
Have you found what was taken from me?
Completion
It's been an age since I knew anything other than the contours of this hellish prison.
Thank you, mortal. Now to aid you.
Notes
Exit Torghast and return to Ve'nari's Refuge. Head northwest along the road, stopping just before Gorgoa: River of Souls. Odalrik is found off the road to the east, marked with a skull on the minimap (like all other elites).
Progression
Patch changes
External links