Recruit's Robe
Duration: 60 min
13 Armor
Equip: Disguise yourself as a member of the new doomsday cult.
Durability 55 / 55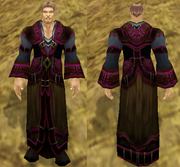 The Recruit's Robe is provided for several quests involved in the Shattering prelude quest chain in Stormwind and Orgrimmar.
You can also obtain one from the crate of Spare Recruits Robes next to Overseer Sylandra.
Patch changes
External links