The Recruit-A-Friend, often referred to as RaF, program is a referral system, through which players can recruit friends or family members into World of Warcraft. When a player chooses to recruit someone, the recruit is emailed an activation link for a starter edition account. Accounts created through this referral system become "linked" with the recruiter's account for 90 days. If the trial account is upgraded to a paid subscription, both the recruiter and the recruit gain benefits when they play World of Warcraft together.
Since patch 7.3.5, the XP boost was reduced from 200% to 50% and Heirloom gear no longer stacked with the boost.[1]
The current Recruit-A-Friend program will be closed on June 11 and be replaced by a newer program in the future.[2]
With patch 8.2.5, the program was re-opened with new Explorers' League-themed rewards.
How to recruit a friend
Log into a character in-game. Open the "Social" tab. Click the "Recruit A Friend" button (

). Enter your friend's email address, and a custom message if desired. Now, your friend must open the email sent by Blizzard, and follow the link to create an account. Once the account is created, they need to verify it with Blizzard, through a follow-up email. Then they can follow the link in the invitation email again, and they will be prompted to choose which account to RAF link. Typically, this is WoW1. After this point, the accounts should be linked.
Benefits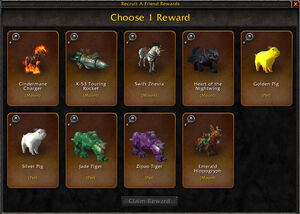 Lasts for 90 days after the recruitment
Time-independent rewards
The recruiter receives a 30-day game credit for each recruit who purchasing two months of game time.
The recruiter receives a special mount or pet of their choice after the recruit pays for a third month of game time.
Related Blizzard posts
Recruit A Friend Program Offers New Rewards | 2013-11-12 19:00 | 
Blizzard Entertainment
The
Recruit A Friend program
is back and better than ever! Now you can choose from 8 different mount and pet rewards—including the brand-new Emerald Hippogryph—and enjoy leveling benefits all the way to level 85.
The upgraded Recruit A Friend allows you to email friends and family members Starter Edition activation keys for World of Warcraft from directly within the game. To get started, simply open up your in-game Friends List and click the new Recruit A Friend button.
Refer-A-Friend Rocket Mount Update | 2010-04-26 13:18 | 
Zarhym
Time is running out for those who wish to claim their Zhevra, as the launch of the X-53 Touring Rocket is now scheduled for tomorrow, Tuesday, April 27! If you've fulfilled all of the Recruit-A-Friend requirements necessary to claim a mount now but choose not to claim the Zhevra, you will be able to claim the X-53 Touring Rocket instead once it launches. Sounds like they're firing it up for a final test run now....
You can find the original announcement here:
http://forums.worldofwarcraft.com/thread.html?topicId=24038460723&sid=1
New Recruit-A-Friend Mount Coming Soon | 2010-04-06 09:00 | 
Bashiok
Beginning in just a few days, players who participate in the Recruit-A-Friend program will receive a whole new reward for showing a friend the ropes in Azeroth: the X-53 Touring Rocket, a two-seater flying mount that automatically increases its speed as your mount skill improves (up to 310% speed if you already have a 310% mount). The X-53 will be replacing the current Zhevra mount reward, which is retiring from the Recruit-A-Friend business after a good run. If you've already claimed a Zhevra (or claim one prior to the change), you'll be able to hang on to it, of course. We'll have more details on the new Recruit-A-Friend mount once it becomes available.
Current Recruit-A-Friend FAQ -
http://us.blizzard.com/support/article.xml?locale=en_US&articleId=20588
Original news announcement
Earn an Exclusive Zhevra Mount with the New Recruit-a-Friend! | 2008-08-05 00:00 | 
Frost
With the new
Recruit-A-Friend
program, you can earn an exclusive
Zhevra mount
, receive a FREE month of game time, and gain access to other exciting in-game benefits. From the moment your friend creates a character and starts playing, you'll both earn triple the experience when grouped together and have the ability to summon one another from anywhere in the world. Also, for every two levels of experience your friend earns, they can grant one level of experience to one of your lower-level characters.
Trivia
RaF used to last only until level 60. However, with the release of Mists of Pandaria, this was changed to 85 (with grantable level maximum increased from 30 to 42) and again changed to 90 with Warlords of Draenor (with grantable level maximum increased from 42 to 44). This would continue to increase with each new expansion release, being changed to the previous expansion's level cap, e.g. Legion increased it to the Warlords of Draenor level cap of 100.
Gallery
See also
References
External links
 

Expansion features