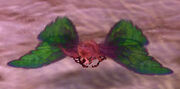 The Red Moth Egg teaches you how to summon a Red Moth companion.
Source
This item can be purchased for 10

from Dealer Rashaad in Netherstorm and

Bugcatcher Cal'yoon in Zuldazar.
It can also be looted from
 [Growling Sac] and
 [Grumbling Sac].
Pet Journal
A product of exposure to wild magical energies, this insect is the unexpectedly colorful result of Azerothian moth species being released into the eco-domes of the Netherstorm.
Battles
Patch changes
External links
Battle pet types
Flying battle pets

Archetype of Malice

Archetype of Motion

Archetype of Satisfaction

Battie

Bloodsucker Vespoid

Dusty Sporeflutterer

Enraged Poultrid

Fluttering Glimmerfly

Foulwing Buzzer

Fuzzy Shimmermoth

Gilded Wader

Helpful Glimmerfly

Larion Pouncer

Multichicken

Necroray Spawnling

Pearlwing Heron

Red Moth

Scarlet Proto Avian

Sinfall Screecher

Stony

Vibrant Glimmerfly

Violent Poultrid

Wader Chick

Wild Etherwyrm