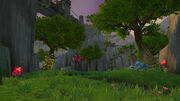 Red Stone Run [56, 50]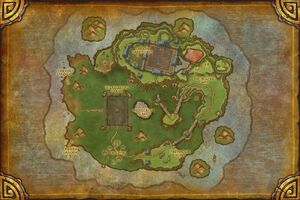 is the valley formed by the Firewalkers' Path high above on the eastern side of the Timeless Isle. In one portion of the western part of the valley are three caves: Tsavo'ka's Den, Kukuru's Grotto, and the Mysterious Den. On the eastern side of the valley is the Whispershade Hollow.
Outside the valley, Mossgreen Lake lies to the west, the Croaking Hollow is the beach to the southeast, Old Pi'jiu can be found southwest, and the yaungol territories of the Firewalkers' Path, Firewalker Ruins, the Blazing Way, and the Shrine of the Black Flame all lie high up on the cliffs above.
Inhabitants
In Tsavo'ka's Den:
In Kukuru's Grotto:
Notable objects
Patch changes