Reeking Pet Carrier
Use: Teaches you how to summon this companion.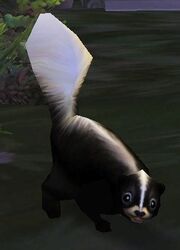 Reeking Pet Carrier teaches you how to summon Stinker, a pet skunk.
Source
This item is obtained when you complete the

 Shop Smart, Shop Pet...Smart achievement. This requires you to collect 50 unique companions.
Battles
Trivia
The last line in the letter is a reference to the Warner Brothers character Pepé Le Pew and his love of a black cat who usually has a strip of white paint poured down her back making her look like a "skunk".
When a Black Tabby, Calico Cat or Bombay Cat is summoned in the presence of Stinker, a heart will appear over Stinker's head and he will begin chasing the cat, which is a reference to Pepé Le Pew (and Penelope Pussycat).
The "Shop Smart, Shop Pet...Smart" achievement name is probably a reference to the real world pet store, Petsmart. Their motto is verbatim of the motto of Reeking Pet Carrier. It could also be a reference to the movie "Bruce Campbell vs. The Army of Darkness", where Campbell's character works at a fictional store called S Mart. Their motto is "Shop Smart, Shop S Mart."
Patch changes
External links
Battle pet types
Critter battle pets

Archetype of Multiplicity

Archetype of Survival

Archetype of Multiplicity

Ashen Chomper

Bloodlouse Larva

Corpselouse Larva

Decaying Mawrat

Decay Grub

Deepwood Leaper

Emerald Scarabid

Feasting Larva

Fierce Scarabid

Frenzied Mawrat

Hissing Deathroach

Leaping Leporid

Metallic Scarabid

Plaguelouse Larva

Shelly

Stinker

Timid Leporid

Tower Deathroach

Undying Deathroach