The subject of this article could only be obtained prior to patch 3.1.0.

The in-game information in this article is kept purely for historical purposes.
Reins of the Black Proto-Drake
Mount
Use: Teaches you how to summon this mount.  This is a flying mount.
Requires Level 70
Requires Artisan Riding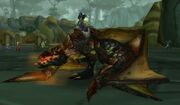 Reins of the Black Proto-Drake is a proto-drake mount. Along with the

 [Reins of the Plagued Proto-Drake], it was a reward for the Naxxramas Meta-achievements before being removed after the introduction of Ulduar.
Source
Originally rewarded by completing the Dungeons & Raids achievement

 [Glory of the Raider (25 player)]. Unlike the Plagued Proto-Drake, it isn't available for purchase in the Black Market Auction House.
This mount is a 310% speed mount. The mount was contained in a letter mailed to you by Alexstrasza.
Mount Journal
Bred specifically to honor those heroes who showed exceptional resilience and fortitude facing the dangers in Northrend.
Patch changes
External links
Mount family

Dragonkin
Feathermane
Invertebrate
Mammal
Reptile
Other

Specific types

 

Removed mounts

Original Epic
Reputation
Retired
reward
Event
Challenge
Promotional
Special