Not to be confused with Dread Raven (NPC) or Dread Raven (mob).
Reins of the Dread Raven
Mount
Use: Teaches you how to summon this mount. This mount changes depending on your Riding skill and location.
Requires Level 20
Requires Apprentice Riding
The Reins of the Dread Raven is the mount from the Digital Deluxe Edition and Collector's Edition of World of Warcraft: Warlords of Draenor. The mount (and the other Digital Deluxe items) can still be purchased from the Battle.net Store.
Obtaining this will reward the

 [Collector's Edition: Dread Raven] feat of strength.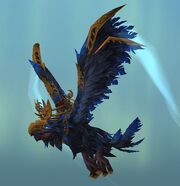 Mount Journal
Filled with the hatred of an ancient god, the dread raven are the Arakkoa's most trusted guardians.
Letter
Players receive the Reins of the Dread Raven in a letter from The WoW Dev Team:
WoD Collector's Edition: Dread Raven
Thank you for your purchase of the Warlords of Draenor expansion!
As a special gift of appreciation, we would like to present you with this fearsome flying mount..
May he carry you to new adventures across the face of Draenor!
Patch changes
See also
External links
Mount family

Dragonkin
Feathermane
Invertebrate
Mammal
Reptile
Other

Specific types