Reins of the Grand Expedition Yak
Mount
Use: Teaches you how to summon this three-person mount with vendors. Excellent for those long journies up the summit of Mount Neverest. Be the envy of your friends.
Requires Level 85
Requires Journeyman Riding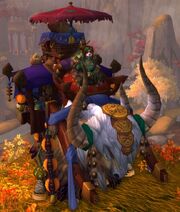 Reins of the Grand Expedition Yak is a mount containing the repair vendor Cousin Slowhands, and the transmogrifier Mystic Birdhat, and is the only known mount in-game to offer portal transmogrification services.
Other vendor mounts including

 [Reins of the Traveler's Tundra Mammoth] and the

 [Reins of the Mighty Caravan Brutosaur], the latter offering portable Auctioneer services.
Source
This item is purchased from Uncle Bigpocket in Kun-Lai Summit for 120,000

, without any skill or quest requirements, and is not discounted by

[Best Deals Anywhere], the goblin racial trait.
Obtaining this mount awards the

 [Grand Expedition Yak] achievement.
Mount Journal
These beasts of burden are known to carry over five times their own weight and to be capable of lasting several days without food or water.
Notes
Patch changes
Patch 6.0.2 (2014-10-14): Grand Expedition Yak's reforge vendor (Mystic Birdhat) has been changed into a vendor that offers transmogrification services.

Patch 5.0.4 (2012-08-28): Added.

External links
Mount family

Dragonkin
Feathermane
Invertebrate
Mammal
Reptile
Other

Gravewings

Razorwings

Shardhides

Wilderlings

Specific types